Video conferencing isn't something most people get excited about. Until recently, the field has been dominated by the likes of Polycom and Cisco in the enterprise sphere, and Skype and Google Plus are the players in the consumer sphere.
These big players have their own software to be installed and signups to start with the video chat.
People have been crying out for a decent video conferencing app for ages. Everyone was using Google Plus. We thought that was it. We were wrong. Meet Appear.in.
HTML5 Video Conferencing
Appear.in is a slick, visually beautiful, and snappy take on the Google Hangouts model. HTML5 only (here's a HTML5 tutorial for beginners). No flash. No plugins. No sign-ups. No bullshit.
Produced by Norwegian telecommunications titan Telenor, Appear.in allows you to share your webcam, microphone, and screen with up to 8 people. Inviting people to your hang out is simply a matter of sharing a link.
It uses WebRTC (real-time communication). This is a recently announced feature which uses simple JavaScript APIs and HTML5 to stream content in real-time. This is integrated into Firefox, Opera (Webkit only), and Google Chrome, with IE and Safari yet to show it any love.
Privacy nuts will get a kick out of this service. No content from your video conference is stored on their servers, and traffic is encrypted with strong SSL encryption.
How Does It Work?
Creating a video conferencing room with Appear.in literally couldn't be any easier.
Navigate to the site. You'll be prompted to create a room. Give it a name (ideally something that is easy enough to remember) and click 'create'.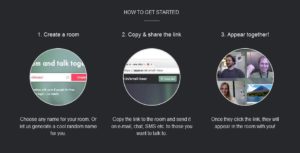 You'll then be prompted to grant Appear.in access to your microphone and camera. If you're happy with this, allow it and proceed forwards.

You will then see yourself on the screen. You can now invite your clients to the chat by sending the URL to your chat room.
That is it!
This has its own pros & cons but this comes very handy to video chat with someone without sharing the id or signup anywhere.
Hope this helps!